Sports Court Flooring & Court Builder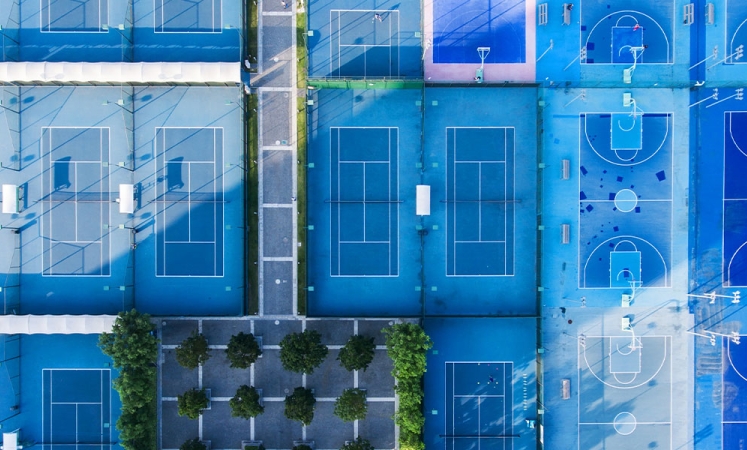 Sports court flooring is a special type of product that can be used in different thicknesses and can be applied as multiple or single layers. It is also used on the floors of areas such as outdoor sports fields, indoor sports halls, basketball courts, tennis courts, volleyball courts, handball fields and football fields, etc.
Types of Sports Court Flooring
As every sports court has some differences when compared to others, different sports court flooring is used. We can list these court flooring types as indicated below:
1. Acrylic Flooring
Acrylic flooring is an aesthetic, decorative, hygienic, non-slip product and it is resistant to weather conditions and temperature differences in addition to heavy pedestrian traffic and chemicals. It has some special substances so that it can be used as indoor sport court flooring and outdoor flooring system. It is also specially designed for small or large areas with various resins and synthetic fillings depending on the purpose of use. In short, they are aesthetic and economical floor coverings designed for sports fields, modified with water-based acrylic resin and various synthetics. Preferably, it is applied on concrete with asphalt or special primer in 2-3 mm thickness in various colors.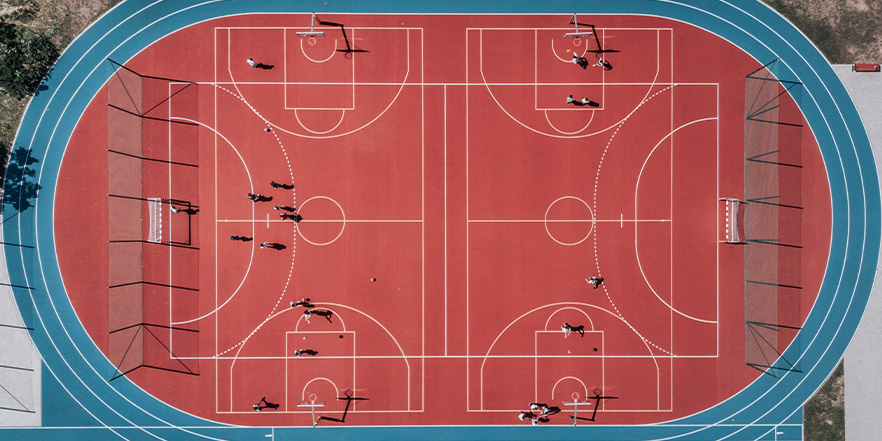 There are also other types of acrylic flooring: Acrylic Cushion System Floor Covering. The system consists of bitumen modified acrylic or rubber powder-filled (cushion), surface conditioner, acrylic coating and acrylic topcoat paint. It has been developed for multi-purpose outdoor sports fields and today it can be used for other purposes which we can list as follows:
Tennis courts,
Basketball courts,
Volleyball/Handball fields,
Athletics tracks,
Bowling fields,
2. Tartan Floor Coating Systems
Tartan coating was developed especially for the floors of tennis courts, and is the indispensable floor covering of Master systems, preferred by professional tennis players. They are rubber-based acrylic-based flexible floor coverings that provide excellent control of the ball in the field and are suitable for all outdoor sports games.
3. EPDM Tartan Coating
It is a water-permeable, flexible, synthetic sports field floor system that is suitable for athletes' health and has nailed shoe strength, consisting of a mixture of EPDM rubber granules with a high-thickness top layer. It can be produced in different colors and is resistant to ultraviolet. It is also suitable for indoor and outdoor tennis courts, basketball, volleyball courts, athletics tracks, and all outdoor sports fields and children's playgrounds.
4. PVC Sports Flooring Systems
PVC Sports flooring is a special type of flooring that can be used in areas such as indoor sports halls, basketball courts, tennis courts, volleyball courts, handball fields and football fields, in different thicknesses. The product can be applied in multiple or single layers on site using adhesives. Solid color and wood patterned models are also available. This type of floor is designed to be extra flexible and non-slip so that it can be used in sports fields.
Sports Courts Flooring Prices
Sports court flooring systems are priced over m2. Including the application or material prices are calculated on square meters. You can contact us for information about sports court flooring cost or request free price information by filling out the form on our website.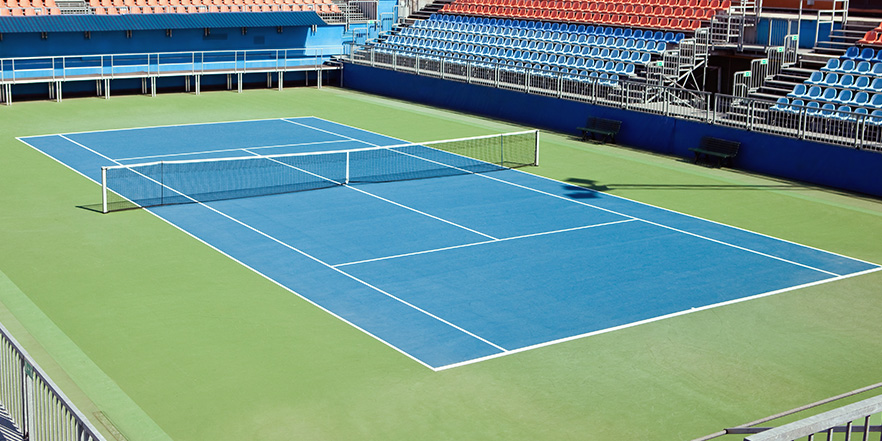 Integral Spor and Sports Court Flooring
Integral Spor offers a variety of sports court flooring options. We use materials such as PVC flooring, tartan flooring, polyurethane, and rubber coating for sports court flooring. By providing application and material sales services with imported and domestic products for all kinds of gyms, we provide professional service for the sale of the court floorings that you dream of having for your indoor or outdoor sports court.
Integral Spor, having worked in this industry for a long time and gained knowledge, offers low-cost and best outdoor sport court tiles when compared to other leading companies. If you also want to get support about sports court flooring from a specialist company, you may contact us immediately or take a look at our website. If you wish, you can fill out the form below, create a request or get further information about the specifications of indoor and outdoor sports court flooring. Our experts will respond as quickly as possible and forward your requirements to us. As Integral Spor family, we are ready to offer you the best and most quality products at affordable prices!