THE MOST PRACTICAL WAY TO GET PREPARED FOR THE OLYMPICS
Sports venues meeting olympic standards
21 indoor and outdoor sports facilities
Easy installation and mounting
The 10-year guarantee under maintenance and service contract
Conformity to the standards of various institutions such as FIFA, FIBA, FIVB, ITS, etc.
High durability and product quality
High-level workmanship with an expert and experienced workforce
Landscaping and parking lots in addition to the sports areas
A special hotel that offers a comfortable lounge for athletes
Rest areas, shelter areas, practice and training fields
Projects that can be revised according to different preferences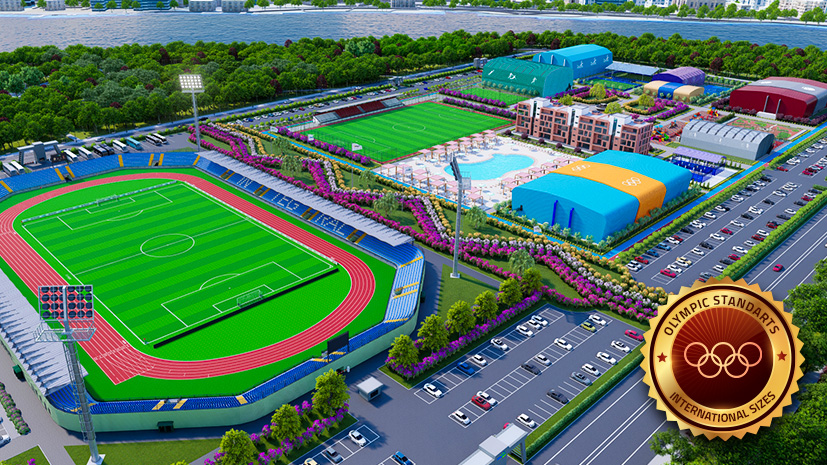 Olympic Sports complex, the most comprehensive project of Integral Spor in 2022, includes 21 indoor and outdoor sports facilities. This project makes a difference not only in sports facilities but also in housing, social areas, and green areas, allowing every country to easily prepare for the Olympics. This project was designed to comply with all Olympic standards, including the construction phase and product quality of the Olympic sports complex. A number of areas in the project are optional and customizable.
OLYMPIC SPORTS complex FACILITIES
The Olympic Sports Complex has 21 indoor and outdoor sports areas. These sites may be listed as follows:
Olympic Sports Facility
Hotel and Swimming Pool
Landscaping and Parking
Frequently Asked Questions
What are the sports facilities in the Olympic Sports City?

There are many indoor and outdoor sports facilities in the Olympic Sports City by Integral Spor. These are:

* Stadium,
* Gym,
* Olympic Swimming Pool,
* Amateur Sports Hall,
* Training Field,
* Indoor / Outdoor Modular Football Fields,
* Outdoor Astroturf and Indoor Astro Pitch,
* Indoor and Outdoor Tennis Court,
* Indoor and Outdoor Multi-Purpose Field,
* Roofed Padel Courts
* Mini Golf Court
* Kids Playground
* Indoor Squash Hall

In addition to these areas, the facilities may also have fitness, sauna, and sports areas as an option.

Which artificial turf should be used on football fields?

Are the dimensions of the sports facilities regular?

Most facilities in the Olympic Sports City comply with the regulations. Some facilities are not of regular size as they are not intended to be used for official competition matches.

How much does it cost to build Olympic Sports Facility?

Olympic sports field construction costs may vary depending on the conditions in the region and the transport costs. Furthermore, the prices vary according to preferences as there are many optional services available in sports city. You can get in contact with us by filling out the form to receive information on the Olympic Sports City construction cost.

How to Build Olympic Sports City?

Structures in the Olympic Sports City are manufactured in a factory by using steel construction and making the installation on-site quick. With the highest performance and time in the applications of many products such as artificial grass, parquet floors, and tartan sports grounds, the expert and experienced Integral Spor team uniformly constructs the entire Olympic Sports City.

Are the sports fields in compliance with the Olympic committee standards?

The sports fields where the official competition matches will be taken are designed according to the Olympic standards.

Are padel courts included in Olympic sports facilities?

There are two padel courts in Olympic sports facilities: One of them is a padel court with a roof and the other one is an outdoor padel tennis court located in the Olympic sports facility.

What are the dimensions of the Olympic sports city?

Olympic Sports City covers an area of 280 m x 540 m.