Multipurpose fields are areas where more than one sports branch is played.
These are the areas with mini football fields, tennis courts and basketball courts.
Generally, multipurpose field dimensions are designed as 18 meters width and 36 meters length.
It is manufactured with EPDM, acrylic, parquet or artificial turf content.
Multi-purpose fields are made as being open or closed.
Indoor multi-purpose sports fields are resistant to all climatic conditions and can be used 24/7, 365 days a year.
Manufacturing can also be made with special dimensions that differ according to the area to be applied.
The project required for multi-purpose field construction is prepared completely on the basis of ground survey and strength.
Direct pile operations are made in order to integrate the wire mesh or network system around it.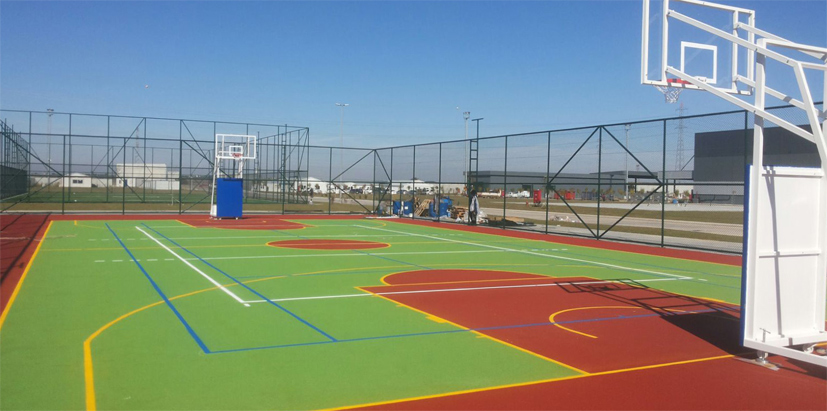 Multipurpose sites are surrounded by security fences; They are sports fields where football, basketball, volleyball and tennis can be played together. Multipurpose fields, that are completely produced in our own factories and installed by our expert team, are delivered to our customers in 4 weeks on average. Integral Spor, having a reference around the world, builds open or closed multi-purpose fields in international standards with different ground types.
Frequently Asked Questions
What are the multi-purpose field construction stages?

Multi-purpose field construction stages are infrastructure works, environmental iron works, wire mesh works, multi-purpose field floor covering and equipment installation.

What are the factors affecting the multi-purpose field cost?

Factors affecting the multi-purpose field cost; The type of the field ground to be built, the sports activities to be carried out in the multi-purpose field, the quality of the equipment to be used, the snow load and wind load of the area to be built if a closed field will be built.

What should be the standard multipurpose field measurements?

It varies according to the types of games to be included in the multipurpose field measures. Sports with a large playing field determine the size of the field. If it is to be built according to the handball field, it is made in the dimensions of 42m x 22m, if it will be made according to the tennis court, it is made in the dimensions of 36.57m x 23.77m. Since the dimensions of other sports are relatively smaller than these sports branches, other sports fields are included in these areas.

How should multi-purpose field drawings be made?

In multi-purpose fields, the game lines should be drawn in different colors to prevent the lines from mixing with each other.

What are the multipurpose field prices on average?

The costs of multi-purpose fields vary according to soil types.

For Multipurpose Field Construction Cost
Contact Us
Multipurpose field construction costs vary depending on many different factors. These include particulars such as dimensions of the field, the type of ground chosen, the yarn structure if artificial turf is chosen, the open or closed exterior structure, and optional services such as accessories, lighting system, tribunes. You can contact us for the cost and price information of open or closed multi-purpose field construction in all ground types.