Walking is an extremely healthy and easy sport for both your physical and psychological health.
Walkways are made of quality raw materials, thus protecting the health of athletes and improving their performance.
Walkways are soft and shock absorbing thanks to their special floors.
Walkways are resistant to all kinds of climates and weather conditions and can be used 24/7, 365 days a year.
Walking paths are suitable for the walking of the disabled.
Walkways have temperature resistance from -40 C to +120 C.
Walkways do not yellow or fade. It is easy to clean and maintain.
Walking paths are made of environmentally and nature friendly materials.
Walkways are non-slippery, moss-free and never muddy.
Walkways can carry up to 45 tons of weight.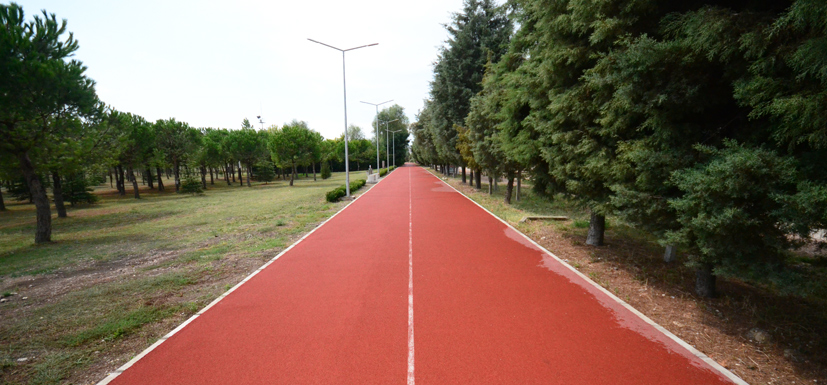 Walking and running constitute one of the most effective ways in order to protect our health from the negative effects of sedentary life today. Our walking areas enable you to be less tired during walking with the help of special shock absorbing floors used. Hence, you can walk and run in a more enjoyable way and for longer time. Integral Spor, providing services at world standards, creates walking areas having different ground types and sizes.
Frequently Asked Questions
How is the walkway made? What are the construction stages?

Construction stages of walking paths are constituted of floor leveling, pouring infrastructure concrete, asphalt pouring and floor covering work.

How should walkway lighting be?

The lighting of the walking paths can be done with park and garden lighting poles.

How much does a rubber walkway construction cost?

Construction cost of rubber walkway varies according to the conditions of the land where the application will be made and the thickness of the material to be used.

How should the walkway flooring be?

The flooring of the walking paths can be tartan flooring, synthetic grass carpeting or acrylic flooring.

What are the walkway rugs and its features?

Flat padel rugs are generally used on walkways.
For Walkway Construction Cost
Contact Us
The construction cost of the walking area varies depending on different factors. These are particulars such as dimensions of the area, the floor material, the presence of additional accessories and lighting systems. You can contact us for walking area construction cost and price information.