There are types of field hockey, hall hockey and ice hockey, depending on the fields they are played on.
We produce field hockey fields and indoor hockey halls in accordance with THF and IHF standards.
Hockey court protects the health of the athlete as it is surrounded by wire mesh and has synthetic ground.
In field hockey that is played on artificial turf, the field dimensions are 91.40 meters x 55.00 meters.
In field hockey played on artificial turf, the goal post dimensions are 3.66 meters x 2.14 meters.
In indoor hockey, the field dimensions are maximum 44,00 meters x 22,00 meters, and minimum 36,00 meters x 18,00 meters.
In indoor hockey, the goal post dimensions are 3.00 meters x 2.00 meters.
Indoor hockey can be used in all climatic conditions in all four seasons.
Hockey is a game that aims to get the ball into the opponent goal post and score a goal by conveying the ball with a 1 meter long stick.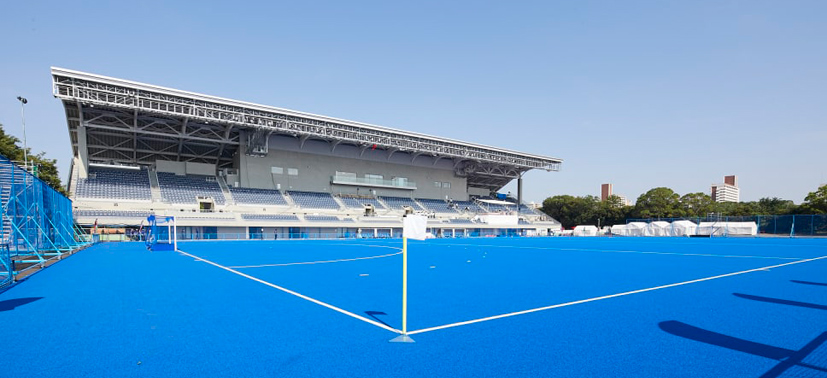 Our hockey fields are manufactured completely in-house in order to provide a pleasant and safe game experience. Installation of the fields is performed by our specialized and experienced team. Hockey fields are preferred in places such as residential areas, sites, hotels and sports centers of private institutions in general. Providing service at world standards , Integral Sporbuilds high quality artificial turf ground hockey fields.
Frequently Asked Questions
How is the hockey field built?

Hockey fields construction stages are environmental iron works, lighting works, field ground leveling works, drainage works, artificial turf works and equipment installation.

What are the ideal hockey field sizes?

Outdoor hockey is played on a synthetic turf hockey field in the Olympic games, measuring 91,40m x 55,00m. Indoor hockey, on the other hand, is played mostly as a preparation phase for outdoor field hockey, in order to keep the athletes trained during the winter period, on fields with a maximum size of 44.00m x 22.00m, minimum 36.00m x 18.00m.

How much does the hockey field project cost?

The costs of the hockey fields vary according to the field conditions to be built, the size of the field to be built and the types of synthetic turf to be used.

How long does it take to build a hockey field ?

If the hockey fields are built according to the measurements in the federation standards, it can be built in a short time such as 6-8 weeks.

How is the maintenance and repair of the field hockey field done?

Watering should be done 1-2 hours before hockey is played in very hot weather on fields where synthetic turf is used. The artificial turfground should be brushed periodically with a special thick plastic wire industrial brush. Granules should be supplemented every 6 months. It is necessary to frequently collect foreign materials (small stones, gravel, metal debris, etc.) entering the site.

For Hockey Field Construction Cost
Contact Us
Construction costs of the artificial turf ground hockey field vary depending on different factors. These are particulars such as the dimensions of the field, the type of ground chosen, the yarn structure if artificial turf is selected, whether the outer structure is outdoor or indoor, and accessories. In addition, optional services such as lighting system and tribunes also affect the cost. You can contact us for hockey field construction cost and price information.