Tennis is a popular Olympic sport played between two people or between two teams of two.
Tennis courts are made with 3 different floor types being acrylic, tartan and artificial grass.
Our tennis courts are manufactured in accordance with TTF and ITF standards.
The tennis court protects the health of the athlete as it is surrounded by wire mesh and synthetic ground.
Court length is 23.77m in singles matches and 8.23m in width, but in doubles matches it should be at least 10.97m.
A space is left around the court for the players to receive their flying balls.
A distance is left in order not to be affected by the tennis court, sitting area, staff and spectators.
It divides the net boundary line stretched from the width of the court into two equal parts.
It is 1.07 meters shorter than the net support and 914 millimeters below the center.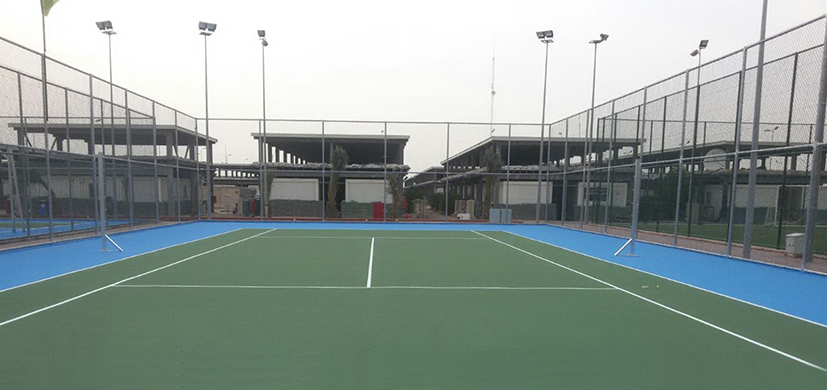 Integral Spor is an expert company with a worldwide reference for tennis courts. Our tennis courts are specially designed in order to provide a professional and enjoyable game experience. Tennis courts, all of which are produced and installed as per the world standards, maintain their high performance for many years. Integral Spor, which serves at world standards builds indoor or outdoor tennis courts in desired sizes, on different floor types.
Frequently Asked Questions
What should be considered in the construction of a tennis court?

In the construction of tennis courts, attention should be paid to the proper construction of the infrastructure in order to avoid any defects that will affect the game and cause water accumulation on the court floor.

How is the optimal tennis court cost calculated?

The choice of flooring material to be used in calculating the cost of the tennis court affects the cost. Usually cost-effective flooring materials are acrylic floors and synthetic grass floors.

What are the standard tennis court sizes?

Standard tennis court dimensions are 10.97m x 23.77m interior area and 18.27m x 36.57m overall area.

What are the companies that make the best quality tennis courts?

Integral Spor is the leading brand in our country in this field and establishes outdoor or indoor tennis courts with high quality and durability.

What are the types of tennis courts?

Tennis courts are acrylic courts, artificial grass courts, tartan ground courts, clay courts and natural grass courts.

For Tennis Court Construction Cost
Contact Us
Tennis court construction costs vary depending on different factors. These include particulars such as whether the field is open or not, the size of the field, the type of ground used, the characteristics of astro turf yarns if synthetic turf will be used, the availability of additional accessories and lighting systems, and the preference of the tribune, if any. You can contact us for the cost and price information of outdoor or indoor tennis courts in all types of floors.