Squash field is a closed area of approximately 65 square meters, with a parquet floor and 3 walls made of special plaster and the back wall being made of glass.
In this form, the squash field resembles a closed cube with one side open.
Four glass walls are used in international championships.
Since it is a sport played on a parquet floor, rubber shoes are used.
Squash is a type of racket sport played by two players (four players in doubles) with racket and ball.
There are over 100 countries that are members of the World Squash Federation (WSF), being the regulatory body of Squash.
Squash is a very enjoyable sport that can be played in 4 seasons.
Squash, which includes many disciplines with running, stretching and turns, was chosen the healthiest sport in 2011.
It is possible to burn 500 calories in the squash game with an average speed of 60 minutes.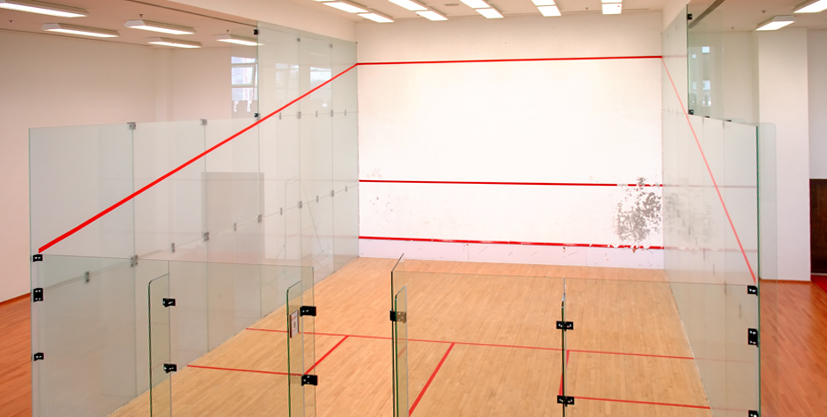 Our squash fields are manufactured completely in-house in order to provide a high quality experience with high game and viewing pleasure. Installation of the fields is realized by our specialized and experienced team.Squash fields are usually used by private schools and private institutions. Integral Spor, providing service at world standards, builds squash fields with high quality artificial turf.
Frequently Asked Questions
What are the squash hall construction and its stages?

Squash hall construction stages; brick walls, rough plaster, epoxy primer and paint on walls, suspended ceiling and lighting works, glass walls and columns, parquet works, drawing game lines.

What should be the standard squash hall sizes?

Standard squash hall dimensions should be 6.450mm in width and 9.755mm in length. The height should be at least 5.640mm.

How much are the squash hall construction costs?

Squash hall construction costs vary according to the area to be built.

What materials are used in squash parlor construction?

Parquet, glass wall and epoxy wall coverings are used in the construction of the squash hall.

How long is the ideal squash court construction time?

The ideal squash court construction period is between 3-4 weeks.

How long is the squash salon warranty period?

There are many different types of materials used in squash salons. Warranty periods of the materials vary.

For Squash Hall Construction Cost
Contact Us
The cost of squash field construction varies depending on different factors. These are particulars such as whether the field is open or not, the quality of the material, the availability of additional accessories and lighting systems, and the preference of tribunes, if any. You can contact us for squash field construction cost and price information.